Family Owned & Operated
Heritage & Heritage are a proud Australian owned and family operated company since 1934. We are focused on caring for bereaved families.
Latest Update on COVID-19 from Heritage & Heritage Funerals Pty Ltd
In line with the current Federal Government directives released Tuesday 24th March 2020, Heritage & Heritage Funerals remains open and able to provide funeral services for our families.
In order to comply with government restrictions, we have implemented the following measures which apply to all funeral services effective midnight Wednesday 25th March 2020:
All funeral services are restricted to a maximum of 10 mourners
Social distancing rules will apply to all funeral venues
We can no longer offer refreshments after our services
Livestreaming services may be available subject to funeral venues and availability
Please be aware that our ability to offer funeral services may change if further restrictions are imposed by the government.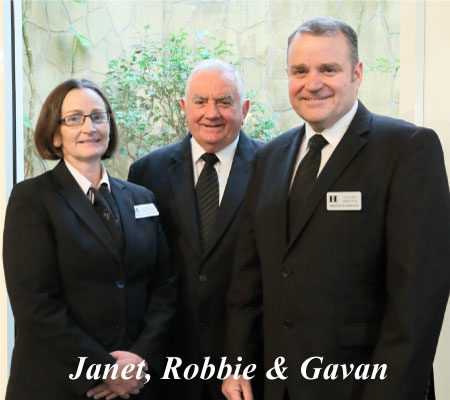 Over three generations of the Heritage family have upheld a continuous funeral tradition. Robbie, his son, Gavan and daughter, Janet continue this proud family history of professional care throughout the Yarra Valley and surrounding areas. We operate modern and comfortable funeral homes of the highest standards. We conduct our business in a family – focused and understanding manner.
At Heritage & Heritage we believe that no two funerals are alike. Whether you or your family choose burial or cremation we are here to help and support you. We take care of every detail from organising the Cemetery, flowers, press notices, death certificate, catering, orders of service, memorial book, bookmarks, family cars and viewing whilst incorporating the traditions and culture of you and your family. The most important thing in our company is the treatment of families that we meet and care for. Read more about us…
Our Funeral Services
The Heritage Family are focused on caring for bereaved families. Whether it's assisting you make your own pre-need arrangements, guiding you through the intricacies of arranging a funeral or helping you through the process of grief, we have the experience to make it all as painless as possible for you.