Family Owned & Operated
Heritage & Heritage are a proud Australian owned and family operated company since 1934. We are focused on caring for bereaved families.
Important COVID Information
At Heritage and Heritage Funerals we remain committed to providing the best possible service and care to all of our families whilst also making the safety of both our families and staff a priority.
Currently funerals are, in most cases, free of any restrictions however we, like many other businesses, continue to be impacted at times by isolation requirements which affect our staff, our service partners and our families.
We will do everything possible to ensure that our funeral services are not impacted and ask that you help us with this by not attending our premises if you are feeling unwell, have COVID-19 symptoms or if you or your household are isolating. We also ask that due to the high number of cases throughout the state anyone attending our premises please wear a mask.
At this time we are unable to offer refreshments at either our Wantirna or Woori Yallock Chapels, however we can provide many suitable alternatives if required.
Please be aware that further restrictions could be imposed by the government at any time and this may impact our ability to offer funeral services.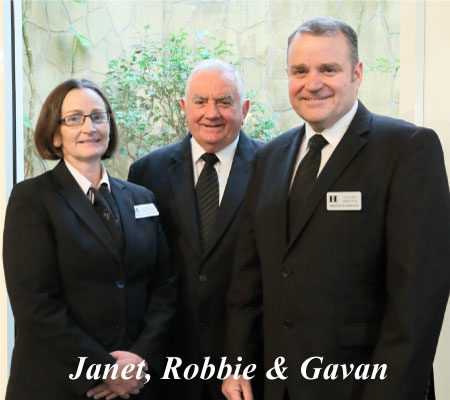 Over three generations of the Heritage family have upheld a continuous funeral tradition. Robbie, his son, Gavan and daughter, Janet continue this proud family history of professional care throughout the Yarra Valley and surrounding areas. We operate modern and comfortable funeral homes of the highest standards. We conduct our business in a family – focused and understanding manner.
At Heritage & Heritage we believe that no two funerals are alike. Whether you or your family choose burial or cremation we are here to help and support you. We take care of every detail from organising the Cemetery, flowers, press notices, death certificate, catering, orders of service, memorial book, bookmarks, family cars and viewing whilst incorporating the traditions and culture of you and your family. The most important thing in our company is the treatment of families that we meet and care for. Read more about us…
Our Funeral Services
The Heritage Family are focused on caring for bereaved families. Whether it's assisting you make your own pre-need arrangements, guiding you through the intricacies of arranging a funeral or helping you through the process of grief, we have the experience to make it all as painless as possible for you.